JRK Flooring Services
JRK Flooring only delivers high-quality hardwood flooring services in the Kansas City metro area – it's all that we do, all day, every day. We're not a general contractor, we're the people you get in touch with when you want to work with experts and professionals who have years of experience working with hard wood floors. Broadly, the services we deliver are broken up into three categories.
Wood Floor Installation & Replacement

Wood floor installation and replacement involves removing a previous flooring material and installing new, high-quality hardwood. We offer a wide selection of wood flooring products that you can have installed in your home or business. Again, our focus is on delivering highly functional, long-lasting and aesthetically pleasing wood flooring that the average Kansas City area homeowner can afford. The installed product will look great and provide years of service under regular use.
---
Hard Wood Floor Refinishing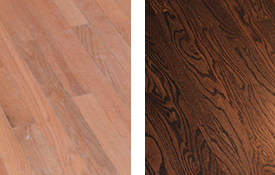 Refinishing offers a homeowner who already has an installed wood floor the option to make it look like new again. Refinishing is the process of removing the faded, dented and worn surface layers of the wood and applying a new stain and finish. This process is less expensive than replacement as it prolongs the life of the current flooring materials. When damage or wear is not extremely significant, refinishing is a great way to make an older floor seem like new again.
---
Repairing Damaged Wood Floors

Repairing wood floors is tricky business, but one that we're qualified to handle. When damage is minor, scuffs, scratches and small dents can be repaired through a repeating process of sanding and re-staining. With newer floors too, sometimes materials can be replaced without a noticeable impact. Wood floor repair needs have to be determined on a case-by-case basis, and the exact repair procedures will vary based on this assessment.