Blue Springs, Missouri
Blue Springs, Missouri – Hardwood Floor Repair, Replacement, Refinishing and Consulting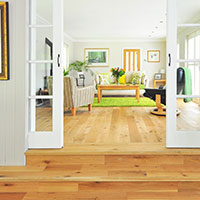 How many times have you walked into your home wishing that your hardwood floors magically will have regained their previous beauty? What about when the light catches the floor just right and you realize that they are long overdue for some attention? The beauty of hardwood flooring is the fact that with the right expertise and equipment they can be made to look brand new in just a few days. Now, if you have carpet, it is time to experience the ease of maintenance and superior durability of hardwood flooring. JRK Flooring are your local hardwood flooring experts and we are committed to providing our neighbors in Blue Springs the finest flooring services in the area.
Hardwood Floor Refinishing Professionals in Blue Springs.
Has it been at least ten to fifteen years since your hardwood floor has had any attention? If that is the case, you are probably noticing age starting to set in. Regardless of the quality of your floor, the integrity is only as sound as your varnish. Many appearance issues with your hardwood floor can be rectified through a refinishing process and at JRK Flooring we are not going to try and sell you a new floor if your current one can be refinished. We have many years of experience refinishing hardwood floors and have a growing list of satisfied clients. So don't trash it, refinish it!
Don't Give Up On Your Hardwood Floors!
Do you have noticeable nicks in your hardwood floor? If that is the case, you need to call the hardwood floor repair experts at JRK Flooring. Replacing your floor just because it has had some bad luck is not the route we would tell you to go, of course the best way to know is to have us perform an inspection of your floors along with a free estimate. We are able to fix damage that seems beyond repairable and restore your hardwood floor back to its original beauty.
Update Your Space With Hardwood.
When was the last time you actually looked at your carpet? Do you try and avoid eye contact with it every chance you get? Well maybe it is time to consider upgrading to a gorgeous custom hardwood floor from JRK Flooring. Our style experts will help you pick the perfect finish and wood species to match your style and decor. If you are really looking to make a statement and add equity to your home, we can install a variety of exotic wood. Don't go one more day with that dingy old carpet upgrade with a new hardwood floor from JRK Flooring today!
JRK Flooring is proud to serve the Blue Springs, Missouri area and are standing by to provide you with the best hardwood floor refinishing, repair, and replacement! Simply fill out our contact form for a free inspection and estimate today!